Aland Sangfestivalen 1

Final
15 March 2013
Presenter(s)
Danny Saucedo
Gina Dirawi
Broadcaster
Tv Aland
Venue

Mariehamn Friends Arena

Winning song
"Jag svär"
by Alina Devecerski
Number of entries
10
Aland Sangfestivalen
2►
Aland Sangfestivalen 1 was the first edition of the Alandish national selection, Aland Sangfestivalen. The Start Date Is 15 March 2013. One song will be selected to represent Aland Islands in OESC #18.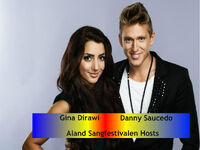 The edition was held for Own Eurovision Song Contest 18. Songs from singers from Sweden, Aland and Finland were sent to Tv Aland, but only ten were choosen. The most notable about the entries were Alina Devecerski keeps on trying to represent Aland and Jannika B as Well. Nine swedish entries were accepted and only one finnish entry. Three entries are swedish, one entry is finnish and six entries are english. The first edition is held in the newly built Mariehamn Friends Arena in Mariehamn,Aland. The voting system was the basic OESC voting system. The national juries awarded 12 to their favourite song, 10 the their second favourite and so on.
Presenters
Edit
Danny Saucedo and Gina Dirawi are the hosts of Aland Sangfestivalen 1. Both were former Melodifestivalen 2013 presenters and both wanted to be presenters of another selection.
The final of Aland Sangdestivalen 1 took place on 15 March 2013 at the Mariehamn Friends Arena in Mariehamn. The 10 songs that were chosen for the final achieved being the favorites of the alandish jury. The winner was selected with the international jury & alandish votes. The winners were Danny Saucedo and Freja with the song "If only you", but Danny and Freja turned down the right to represent Aland in Own Eurovision Song Contest 18 and were able to choose a new winner. They choose Alina Devecerski with her song "Jag svär"" and accepted to represent Åland Islands in Own Eurovision Song Contest 18.
Countries
Final
(by final results)

Semi-finals
(in alphabetical order)

Semi-final 1

Semi-final 2

Semi-final 3
(Note : "Withdrawn" refers to entries that withdrew after applying to enter)
Community content is available under
CC-BY-SA
unless otherwise noted.